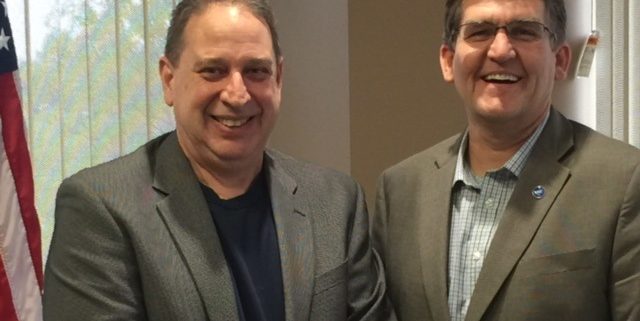 Eastern Gateway Community College President Dr. Jimmie Bruce and Interim Vice-President of Academic Affairs Dr. Ken Knox presented a workshop at the American Association of Community Colleges Annual Conference in Chicago recently.
The presentation, titled "Beyond Online – How Implementing a Competency-Based Program Transformed Students and a Community College," detailed the college's efforts to make education more accessible to working adults. This is accomplished at EGCC through the implementation of a competency-based online model that allows students to move forward with their studies as they demonstrate mastery of course content.
The EGCC program was initiated in October 2015 with 190 students and has grown to more than 500 students for the spring 2016 semester. Keys to the success of the program have been the involvement of EGCC's faculty in the development and approval of the course content, as well as an advising model that tracked student progress on regular basis. Those students who needed additional academic support were quickly identified and guided by EGCC advisors.
Bruce and Knox gave the presentation on April 10 at the 96th annual AACC meeting. The convention is one of the largest gatherings of community college administrators in the nation with more than 2,000 participants.
Photo: Eastern Gateway Community College Interim Vice-President of Academic Affairs Dr. Ken Knox (left) and President Dr. Jimmie Bruce (right) at the American Association of Community Colleges Annual Conference in Chicago
https://egcc.edu/wp-content/uploads/2016/07/Ken-Knox-and-Jimmie-Bruce.jpg
574
640
egccedu6
https://egcc.edu/EGCC-Logo.png
egccedu6
2016-05-10 13:56:37
2016-07-08 13:58:09
EGCC Administrators Present Best Practices at National Conference