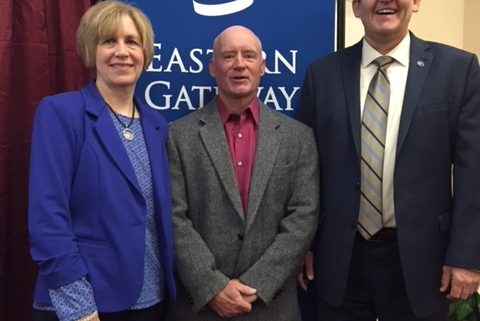 Eastern Gateway Community College faculty and staff packed the Lecture Hall in Steubenville to hear "The Last Lectures of Judy Hince and Jim Senary" on May 17.
Hince and Senary, who are retiring after decades dedicated to teaching, delivered their last lectures at the Jefferson County campus. Their lectures noted the people who have influenced their lives and careers, and they also expressed gratitude to the college.
Hince taught at EGCC for nearly three decades, 10 years as an adjunct professor and 17 years as a full-time instructor. A registered nurse for 38 years, Hince taught in Eastern Gateway's practical nursing and registered nursing program; the medical assisting program; the EMT-I and paramedic program; the radiology program; the phlebotomy program; and courses in the biological and health core sciences.
She has been an American Heart Association Basic Life Support instructor for 30 years and teaches BLS at Eastern Gateway and East Ohio Regional Hospital. An alumna of Alderson Broaddus College and West Virginia University, Hince has worked as a registered nurse at Weirton Medical Center and Reynolds Memorial Hospital in Glen Dale, W.Va. She currently works in the cardiac testing department of East Ohio Regional Hospital.
Senary, a business and accounting professor, taught at EGCC's Valley Center for four years. His classes have been featured both in the Youngtown Business Journal and the Youngstown Vindicator for the class's analysis on local business including Joe Maxx Coffee, The Youngstown Historical Center, Oh Wow!!, and the Follett Inc.'s bookstore.
Senary graduated from Youngstown State University with a major in accounting. While at YSU, he earned the YSU Pin for "Most Outstanding All Around Male Student." After graduation, he worked for Arthur Anderson as an auditor. His next career move was to General Motors, where he spent 30 years until his first retirement.  At General Motors, he was the finance manager for several business lines, including joint venture between General Motors: Toyota, Daimler, Ford, and BMW.  These opportunities afforded him the opportunity to work in China, Germany and Haiti. During his career at GM, he continued his education earning an MBA at Ohio University and a certificate from The Wharton School of Business in strategic planning.
While still working for GM, Senary was an adjunct instructor at Kent State Trumbull, Stark and Salem branches.  After two days of retirement from GM, Jim began his full teaching career at Hiram College, where he taught accounting and business courses. While at Hiram College, he initiated free tax preparation locations to service the Portage County residents, totally operated by the students of Hiram College.
Senary said he "jumped at the opportunity continue his teaching passion when Eastern Gateway was established in the Mahoning Valley."  While at EGCC, Senary was nominated for the Ohio Association of Two Year Colleges Outstanding Teacher Award.
Pictured (left to right):
Judy Hince, James F. Senary and EGCC President Jimmie Bruce
https://egcc.edu/wp-content/uploads/2016/05/Hince-Senary-and-Bruce.jpg
640
480
egccedu6
https://egcc.edu/EGCC-Logo.png
egccedu6
2016-05-20 15:17:55
2016-07-08 15:20:33
EGCC Faculty Mark Retirement With 'Last Lectures'