Eastern Gateway Community College, COVID-19 Procedure

If you are feeling sick or have a fever, contact your instructor or supervisor, they will make accommodations for you. This is for the health and safety of all Eastern Gateway Community College's employees and students.
DO NOT come to campus if you have any of the following symptoms:
Fever (a temperature of 100.4 degrees Fahrenheit or higher) or chills
Cough
Shortness of breath or difficulty breathing
Fatigue
Headache
Loss of taste or smell
Sore throat
Congestion or runny nose
Nausea or vomiting
Diarrhea
You have recently experienced a fever (a temperature of 100.4 degrees Fahrenheit or higher). You may not return to campus until you have been fever-free for at least 72 hours (that is three full days of no fever without the use of medicine that reduces fevers), other symptoms have improved (including but not limited to, a cough or shortness of breath) and at least 5 days have passed since your symptoms first appeared.
While on campus:
If you feel sick including the following symptoms: fever, cough, and/or difficulty breathing, immediately notify your instructor or supervisor.
EGCC requires employees and students taking In-Seat courses at a campus to follow the CDC Guidelines below for Isolation and Quarantine: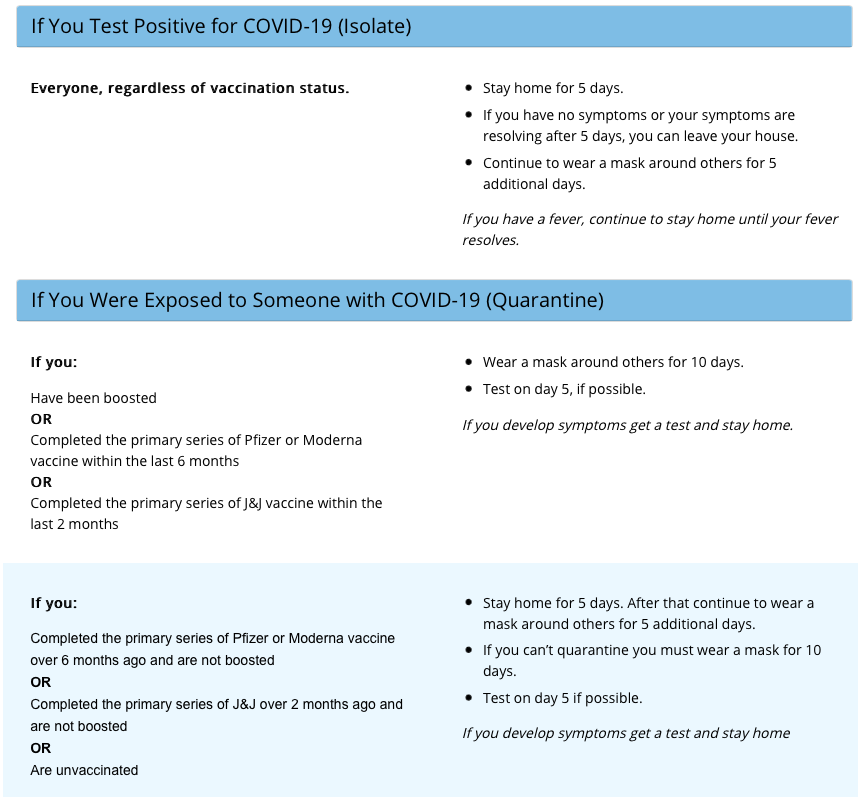 EGCC requires that the employee or student taking In-Seat courses at a campus submit a copy of their positive test results to [email protected].
The College is providing standard PPE (Personal Protective Equipment) for all employees, students, and visitors inside campus buildings. This includes: face masks, hand sanitizer, sanitizing wipes, and gloves.
The College will have Program specific Process documents for specific/specialized lab and PPE requirements.
PPE and At-Home COVID tests can be acquired from security.
Face Coverings/Masks:
Masks are no longer required, although we recommend that they still be worn in EGCC buildings. Masks may be required in classrooms; this will be determined by the instructor.
The requirement to facial coverings does not apply when:

The individual is under ten years of age;
A medical condition including those with respiratory conditions that restrict breathing, mental health conditions, or disability contraindicates the wearing of a facial covering;
The individual is communicating or seeking to communicate with someone who is hearing­ impaired or has another disability, where the ability to see the mouth is essential for communication;
The individual is alone in an enclosed space, such as an office, or in lieu of an enclosed space, the individual is separated by at least six feet in all directions from all other individuals, and in either case the space is not intended for use or access by the public;
The individual is actively engaged in a public safety capacity, including but not limited to law enforcement, firefighters or emergency medical personnel;
The individual is seated and actively consuming food or beverage outside of a classroom, on campus, and must maintain social distancing during this activity.
Social Distancing:
The College is Recommending social distancing on campus.
The College has partnered with Trinity Health Systems, in Steubenville, and Mercy Health Systems, in Youngstown, to provide COVID-19 screening/testing at a local testing facility.
The individual must provide their own transportation to the facility. The individual should not take public transportation to the facility to avoid infecting large groups of people.
Employees and students should have a contact available to provide this transportation if required.
If any student or employee is tested for COVID-19, they must report the testing to the Human Resources department at:
Phone: 1-800-682-6553 Ext. 1683
Email:

[email protected]

If the employee or student is tested positive for COVID-19, they must provide documentation that they have been evaluated and/or have tested negative prior to being allowed back in the building. This documentation will be provided to the individual at the testing center.
The College will cover the cost of the student's first test at one of these authorized centers (It must be a center listed below). Any additional tests or additional medical expenses will be the individual's responsibility.
Steubenville Testing Center:
Trinity Express Care – Wintersville
150 Main Street, Wintersville, OH 43953
Everyday: 8AM-8PM
740-346-2702 (It is recommended that you call first, as hours may change)
Youngstown Testing Center:
Mercy Health-Wick Primary Care at Youngstown State University
330 Wick Av
Youngstown, OH 44503
330-747-4660 (It is recommended that you call first, as hours may change)
###