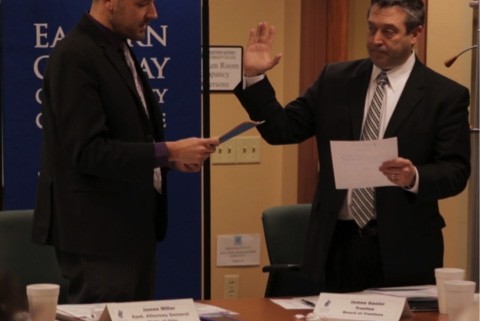 James M. Gasior was sworn in as Eastern Gateway Community College's newest trustee during the Board of Trustees meeting held March 9. Gasior, of Mahoning County, was appointed by Ohio Gov. John Kasich on Jan. 25 for a term ending on Oct. 16, 2020.
Gasior is a certified public accountant and member of the American Institute of CPAs and the Ohio Society of CPAs. He is also a member of the Regional Chamber of Commerce, the RMA Northeast Ohio chapter and Youngstown State University's Outreach Advisory Committee.
Gasior currently serves as president and CEO of Cortland Savings and Banking Corp., a company he joined in March 1990 as a general audit officer. He previously served as senior vice president, chief financial officer and secretary for Cortland Bancorp since 2005.
(Photo: James Gaisor is appointed as EGCC's newest trustee. Gaisor was given the oath by James D. Miller, Associate Assistant Attorney General, Education Section of the Office of Ohio Attorney General Mike DeWine)
https://egcc.edu/wp-content/uploads/2016/03/James-Gaisor.jpg
482
480
egccedu6
https://egcc.edu/EGCC-Logo.png
egccedu6
2016-03-15 19:46:36
2016-03-31 19:46:49
James Gasior sworn in as EGCC's newest trustee