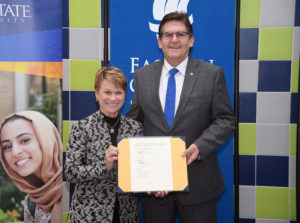 Kent State University and Eastern Gateway Community College (EGCC) have formed a strategic partnership that will create new access to courses and degrees for thousands of students living and learning on Ohio's eastern border.
Leaders from both institutions met Oct. 10 at Eastern Gateway's Steubenville campus to sign the agreement and celebrate the new collaboration, which will increase educational opportunities and access for students throughout the four counties Eastern Gateway serves.
"We are excited about the partnership with Kent State University that will enhance opportunities for all students at our Steubenville Campus and will increase articulated pathways from EGCC to Kent State," said Eastern Gateway President Jimmie Bruce, Ed.D.
Leaders from Eastern Gateway and Kent State's two Columbiana County campuses – Salem and East Liverpool – met a year ago to begin evaluating how the two institutions could best work together. They discovered the two schools share many program pathways that could be linked to form a progression from an associate to bachelor's degree for students studying at Eastern Gateway.
Eastern Gateway serves students in Columbiana, Jefferson, Mahoning and Trumbull counties with campuses in Youngstown and in Steubenville, not far from the Kent State's East Liverpool Campus.
"At Kent State, we believe that when Ohio's public higher education system works together, the students, families and communities we serve win," said Kent State President Beverly J. Warren. "Look no further than our innovative new partnership with Eastern Gateway, which brings together our unique capabilities to open new doors for more students who aspire to earn a four-year degree but may otherwise miss the opportunity."
The first two conjoined educational pathways will link Eastern Gateway's Associate of Arts degree to Kent State's Bachelor of Science in Information Technology degree, and Eastern Gateway's Associate of Arts degree into Kent State's Bachelor of Technical and Applied Studies degree. Students also will be able to complete the Technical and Applied Studies degree with a concentration on Insurance Studies. Additional pathways will be determined in the future based on student interest in various study areas.
In addition to course offerings, Kent State will house a physical advising center at Eastern Gateway's Steubenville campus, which will serve to educate students on Kent State programs and provide guidance for students looking to transfer after completing their associate degree programs at Eastern Gateway.
The new partnership will eliminate the guesswork for students who are interested in transferring from Eastern Gateway to Kent State to complete their four-year degrees. They will have a pathway map of courses leading their studies from Eastern Gateway to Kent State and to achieving a bachelor's degree.
The degree pathways and new advising will begin in 2019.
About Kent State University
Kent State University is one of 76 public higher-research universities, as categorized by the Carnegie Foundation for the Advancement of Teaching, and is ranked in the first-tier list of Best National Universities by U.S. News & World Report. With eight campuses spanning Northeast Ohio, a College of Podiatric Medicine, a Regional Academic Center, and academic sites in major world cities such as New York City, Geneva and Florence, Kent State is one of Ohio's leading public universities and a major educational, economic and cultural resource far beyond the Northeast Ohio region it has served since 1910. The student body comprises more than 38,000 students, including more than 1,700 international students from 100 countries, and the worldwide alumni family exceeds 245,000. The addition of new learning environments from the sciences to the arts and the development of exciting new academic programs such as aerospace engineering, geographic information science and business analytics characterize Kent State's focus on transformational educational experiences.
For more information about Kent State, visit www.kent.edu.
About Eastern Gateway Community College
Eastern Gateway Community College – serving more than 59,000 students since 1968 – is a state, public, accredited institution, offering choices for students in all walks-of-life. The college provides quality, student-centered, future-focused higher education and offers degrees, certificates, programs and courses to prepare students to transfer to a four-year institution or to enter the workforce. Eastern Gateway serves Columbiana, Jefferson, Mahoning and Trumbull Counties with two locations — the Steubenville Campus and the Youngstown Campus. The college also offers courses at other locations throughout its service area. Eastern Gateway provides knowledge enrichment for residents seeking noncredit courses, cultural events and a place for communities to hold meetings or workshops.
For more information about Eastern Gateway, visit www.egcc.edu.
https://egcc.edu/wp-content/uploads/2018/10/SigningCeremony2.jpg
2677
3600
Bob Roeschenthaler
https://egcc.edu/EGCC-Logo.png
Bob Roeschenthaler
2018-10-11 10:42:07
2018-10-11 10:44:45
Kent State University Partnership With Eastern Gateway Community College Opens Doors to Expanded Learning Opportunities for Thousands of Students